Davies Craig, EBP25 - Electric Booster Pump , 27LPM, - Brushless 12V kit, DC-9025
---
The EBP®25 Brushless Electric Booster Pump is more compact, more powerful, lightweight and offers;
Higher flow capacity: 27.0 L/min @ 10 kPa
Higher head pressure than the EBP®25 model it supersedes
Lower current draw
Mounting bracket
Reverse polarity protection
Overvoltage protection
Automatic dry-running protection

Its compact design ensures versatility with the EBP® suited to a variety of automotive, solar, recreation, mobile home, marine, domestic and water reticulation applications. This booster pump can be used to enhance OEM engine cooling systems, improving coolant circulation especially in LPG conversions and greatly assisting the management of engine temperatures.
Contents:
EBP25 - Electric Booster Pump 1
EBP25 wiring loom (AMP Plug) 1
EBP25 plug adaptor (Bosch to AMP) 1

Specifications:
Motor 12v Brushless
Operating Voltage 8v to 20v DC
Rated Current 2.1 Amps
Flow rate @ 12v 27.0 L/min @ 10 kPa
Head of delivery 4.5m @ rated voltage
Environment Temp -40°c to 125°c
Liquid Temp -40°c to 120°c
Pump Design Recirculating Centrifugal
Weight 650 grams (1.43lb)
Body Material PPS
Insulation grade Level H (180°c/356°F)
Burst Pressure 250 Kpa (36psi)
Inlet & Outlet Size 19mm (¾")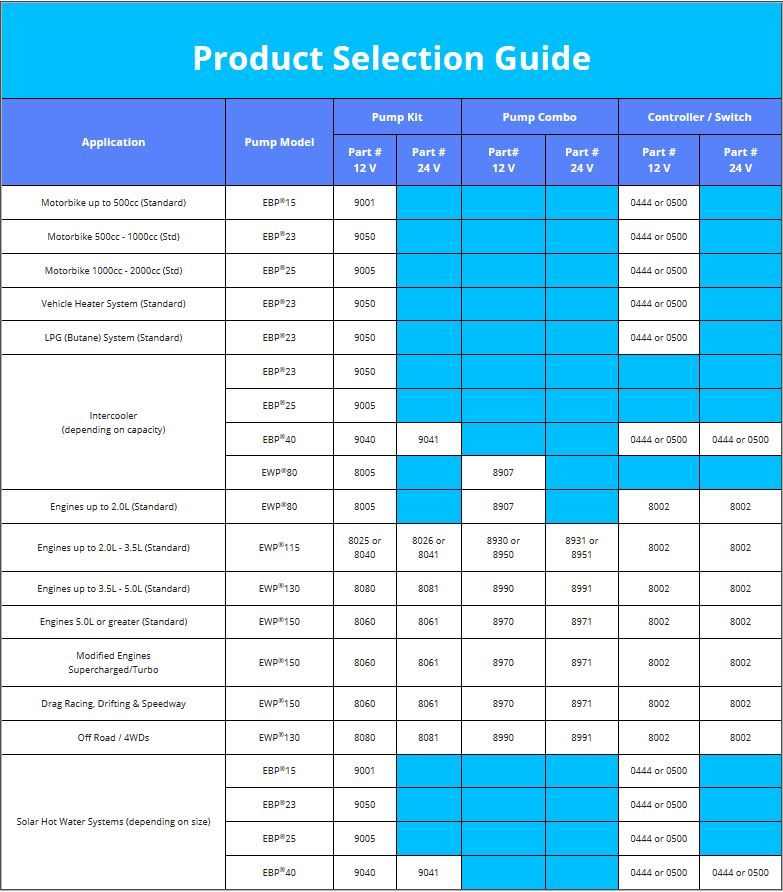 There have been no reviews for this product.