Davies Craig, EWP130 Combo, 12V 130LPM Electric Water Pump & Controller, 3.5L-5.0L Engine, DC-8990
---
Turbocharge your engine cooling with the Davies, Craig EWP®130 alloy Electric Water Pump. Like all the EWPs, this unit is designed for universal engine fitment, to satisfy those larger and higher horsepower, turbocharged, supercharged and 'worked' engines which develop excessive heat. Combine it with the LCD EWP®/Fan Digital Controller and the pump continues to run after you've switched off, eliminating "heat soak" and extending engine life. The EWP®130 and LCD EWP®/Fan Digital Controller Combo Kit is the most economical way to increase horsepower and save on fuel consumption whilst caring for your engine. The Davies, Craig EWP® header adaptor kit can replace the mechanical water pump completely.
The EWP®130 will be supplied with one each of the 35mm (1⅜") straight and elbow alloy adaptors, 'O' rings and mounting hardware along with two 3mm (⅛") rubber adaptor sleeves. The respective 38 mm (1½") alloy adaptors and 6mm (¼") rubber adaptor sleeves are optional.
By removing the belt-driven water pumps, the EWP®130 releases up to 10kW (13hp) of extra power, increased torque and fuel savings. Suits engines standard from 3.5L-5.0L.
Water Pump Specifications:
Water pump with flow up to 130L/min (10A)
voltage: 12V
operating voltage: 3V DC to 15V DC
maximum current: 10A A 13V
flow rate: 130 L/min
operating temp: -40° to 130°C
pump weight: 1226g (2,7 lb)
pump material: aluminum
pressure: 500kPa (72,5 psi)
fits hose sizes: 35mm to 51mm

Contents
EWP/FAN LCD Controller 1
Alloy elbow adaptor - 35mm (1⅜") 1
Alloy straight adaptor - 35mm (1⅜") 1
Hose Clamps 4
Rubber adaptor sleeve - 3mm (⅛") 4
EWP Adaptor O-Ring 2
Wiring Harness Digital Controller 1
Inline Adaptor 5/16" 1
EWP130 Combo Hardware Bag 1
Instructions 1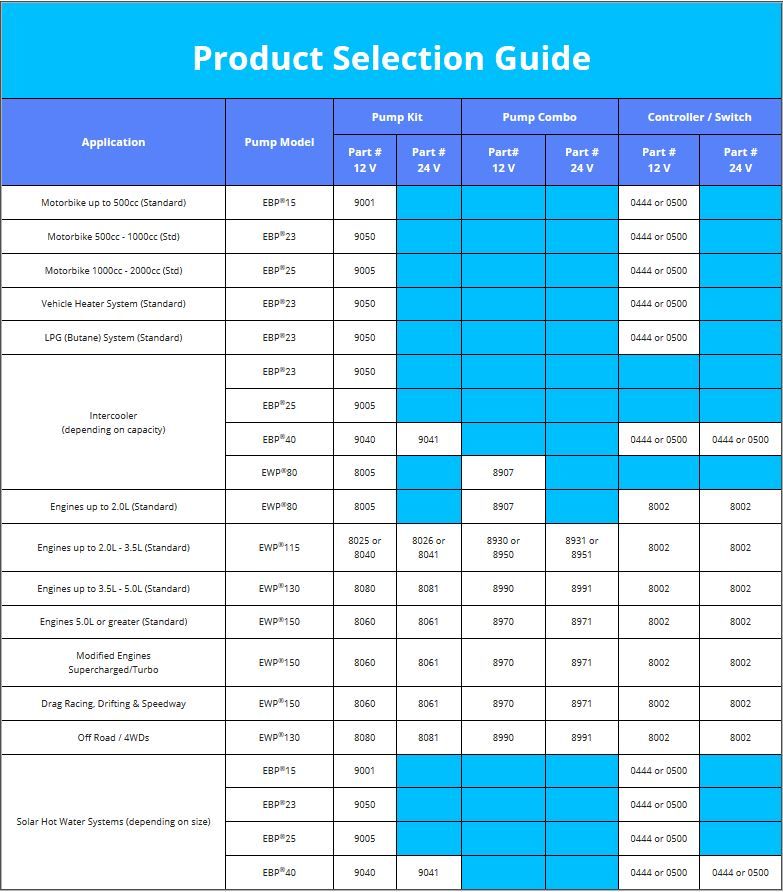 There have been no reviews for this product.