KOYO-KL010706R International part number
KOYO-R0171 Is used by Koyorad USA
R SERIES 53mm Core Thickness
Built with a robust 53mm core, the R-Core Series is engineered for the serious performance tuner. Increased capacity means better cooling reserve when you need it. Intended for both circuit and daily use, you may double your coolant capacity and see up to 35% increased performance over your stock radiator. Unless noted otherwise, all Koyorad R-Series All Aluminum Radiators are Nocolok brazed, designed as a factory fit, direct bolt in with no engine modifications necessary, and retain mounts for the stock fan shrouds and fans. See notes in individual item descriptions for details.
Features:
Precise Tube and Fin Alignment: Construction under strict quality control and solid boxing result in tubes with optimal coolant flow and fins with highly efficient heat transfer.
Nocolok Brazing: Tubes, Fins, Headers and Brackets are brazed in a state-of-the-art Nocolok furnace, bonding all components to resist damage from vibration, road debris, and the elements.
Billet Filler Neck: Precision machined billet filler necks are incorporated on each Koyo radiator for strength, durability and better sealing.
OE Specific Mountin: Koyo incorporates application specific mounting locations for all fan shrouds, inlet/outlet hoses and top/bottom mounting pins, ensuring quick and pain-free installs.
Hand Crafted Heliarc Welds: Each Koyo Alloy Race Radiator is Heliarc welded individually by hand. This creates the strongest aluminum to aluminum bond to mate all components.
Fitment:
1986-1992 Toyota Supra MA70 7M-GE (OEM radiator cap is not compatible with this radiator. Must use Koyorad # SK-C13 or equivalent)
1986-1992 Toyota Supra Turbo MA70 7M-GTE (OEM radiator cap is not compatible with this radiator. Must use Koyorad # SK-C13 or equivalent)

Note: Automatic vehicles will require external transmission cooler.
Tech Notes: Transfer fan switch (sensor) from stock radiator (M16x1.5 thread).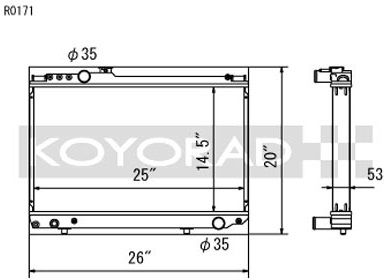 ---